Inflation Reduction Act Funding Clinic (IRA)
posted on 4/14/23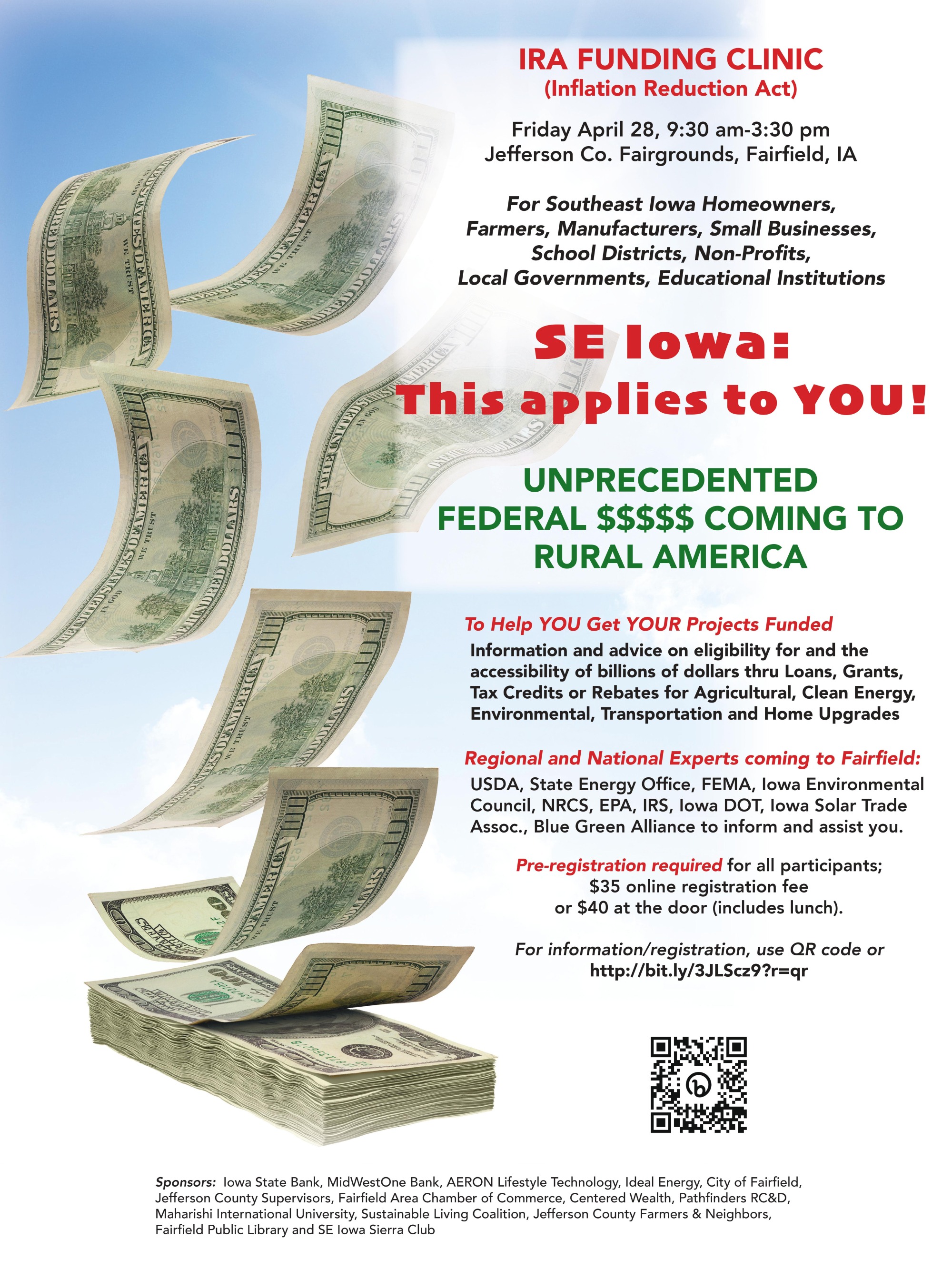 The Southeast Iowa Sierra Club is Hosting:
Inflation Reduction Act Funding Clinic (IRA)
9:30 to 3:30 on Friday, April 28, 2023 (lunch included)
Jefferson County Fairgrounds (2606 W Burlington Ave, Fairfield, IA 52556)
The Inflation Reduction Act has appropriated $500 billion to boost economic development and community resilience and has designated 40% of its benefit for underserved rural communities. Participants from Wapello, Jefferson, Washington, Davis, Van Buren, Louisa, Henry, Lee, and Des Moines counties are specifically invited, because we think this is a "leg-up" that Southeast Iowa needs. Of course, attendance is open to individuals from elsewhere, too.
MORNING PROGRAM: Experts from multiple Federal, State, regional agencies and organizations will provide information about the amount and type of IRA funds that will flow through each department, how their organization will be involved, and what types of projects each can support. Those present will include DOT, EPA, USDA, FEMA, IRS, IEC, Blue-Green Alliance, Iowa Solar Trade Association, Center for Rural Affairs, and more.
AFTERNOON PROGRAM: Those same representatives, as well as grant writers, will staff "round tables" where participants can ask questions about specific projects and learn how best to proceed and who to contact to access funds.
Pre-registration is required at http://bit.ly/3JLScz9?r=qr. Clinic fee is $35 if paid in advance online; $40 (cash or check) at the door.
Sponsors Include:
Iowa State Bank, MidWestOne Bank, AERON Lifestyle Technology, Ideal Energy, City of Fairfield, Jefferson County Supervisors, Fairfield Area Chamber of Commerce, Centered Wealth, Pathfinders RC&D, Maharishi International University, Sustainable Living Coalition, Jefferson County Farmers & Neighbors, Fairfield Public Library and SE Iowa Sierra Club
More News
posted 12/6/23
posted 12/5/23
posted 12/1/23
posted 12/1/23
posted 11/30/23