Dr. Grant Landon Joins Jefferson County Health Center
posted on 8/18/23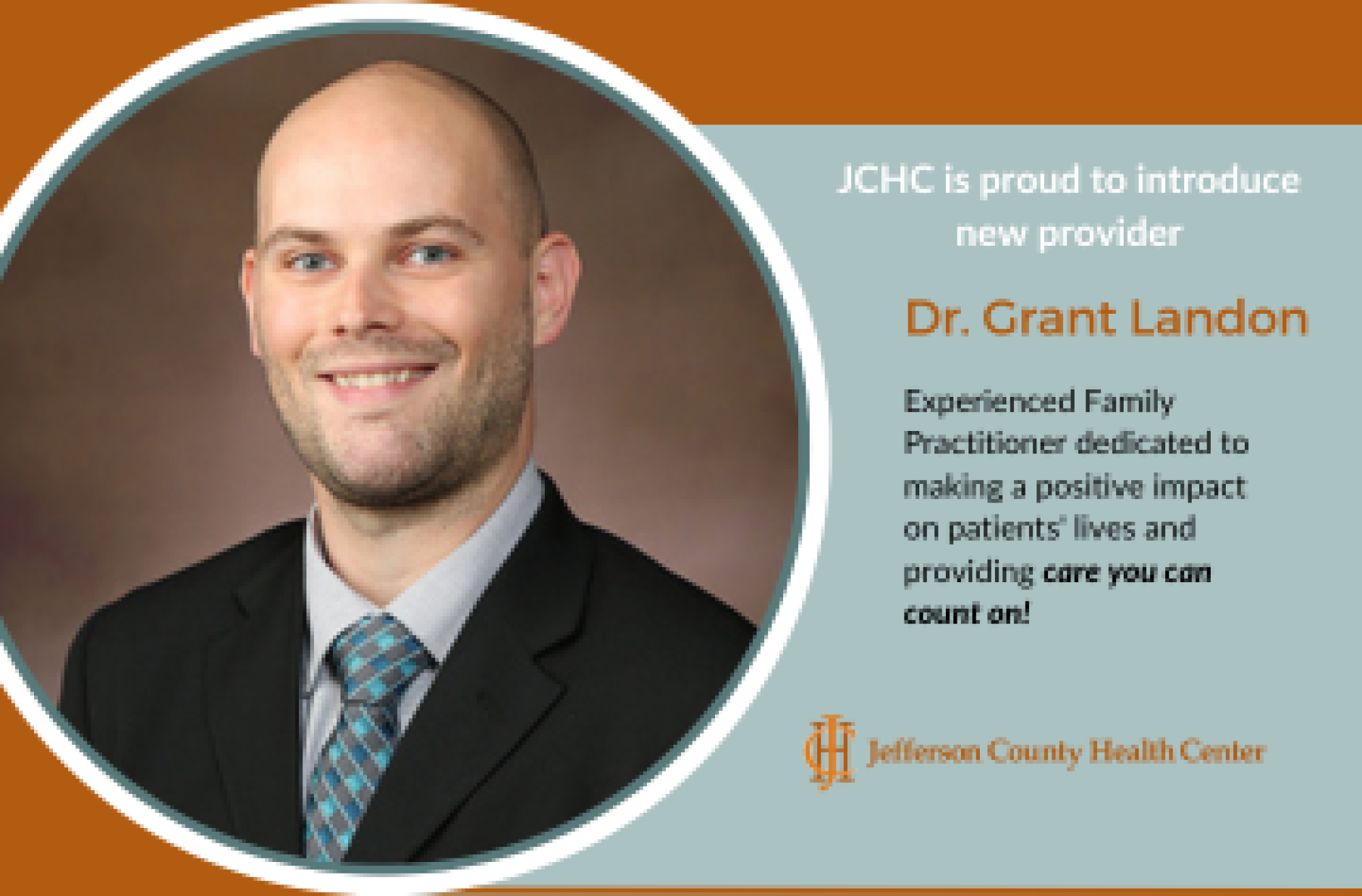 Dr. Grant Landon Joins Jefferson County Health Center
FAIRFIELD, IA — Jefferson County Health Center is excited to announce the arrival of Dr. Grant Landon, a highly skilled and compassionate family practice provider. Dr. Landon has a particular interest in mental health, preventive medicine, and diabetes management. He will join the medical staff in the JCHC Clinics and begin to see patients on August 10th.
Dr. Landon's passion for medicine and desire to make a positive impact on people's lives started at a young age. At the age of 5, inspired by witnessing a relative endure chronic health conditions, he knew that becoming a doctor was his calling. In his medical practice, he has demonstrated exceptional compassion, drive, and an open-minded approach to patient care.
"I want my patients to leave their appointments feeling empowered and knowledgeable about their treatments, medications, and conditions," Dr. Landon emphasized. "I believe in taking the time to ensure each patient fully understands their healthcare options, and I'm committed to providing them with the highest standard of care possible."
Dr. Landon holds a Doctor of Osteopathic Medicine from Edward Via College of Osteopathic Medicine in Blacksburg, VA. Prior to that, he earned a Bachelor of Science in Biology Health Professions from Northwestern College in Orange City, IA, and completed an Associates of Arts in General Studies at Southeastern College in West Burlington, IA.
"We are thrilled to welcome Dr. Landon to JCHC," said Bryan Hunger, CEO of JCHC. "His passion for mental health and preventive medicine aligns well with our mission to provide exceptional healthcare services to our community. We are confident that he will make a positive impact on the lives of our patients."
With Dr. Landon's addition to the team, JCHC reaffirms its commitment to delivering top-notch healthcare and strengthening its position as a leading provider of comprehensive family medicine to Jefferson County and the surrounding communities.
Dr. Landon is eager to begin seeing and treating patients through the JCHC Clinics and is excited to welcome new patients to his practice. Starting August 10th, appointments can be scheduled by calling 641-472-4156. Whether it's a routine check-up, management of chronic conditions, or mental health concerns, Dr. Landon is committed to providing comprehensive and compassionate care to all his patients. To learn more about Dr. Grant Landon, visit www.jeffersoncountyhealthcenter.org/providers.
About Jefferson County Health Center
Jefferson County Health Center (JCHC) is a non-profit, critical access hospital located in Fairfield, Iowa, that seeks to optimize the health and well-being of the people and communities they serve through patient-centered, high-quality, and compassionate services. They offer many services including primary care, general surgery, inpatient care, emergency medicine, imaging and diagnostic testing, therapy services, and more.
More News
posted 9/21/23
posted 9/21/23
posted 9/20/23
posted 9/11/23
posted 9/8/23