Bike Safety and Rodeo Hapening at Pence Elementary
posted on 4/27/23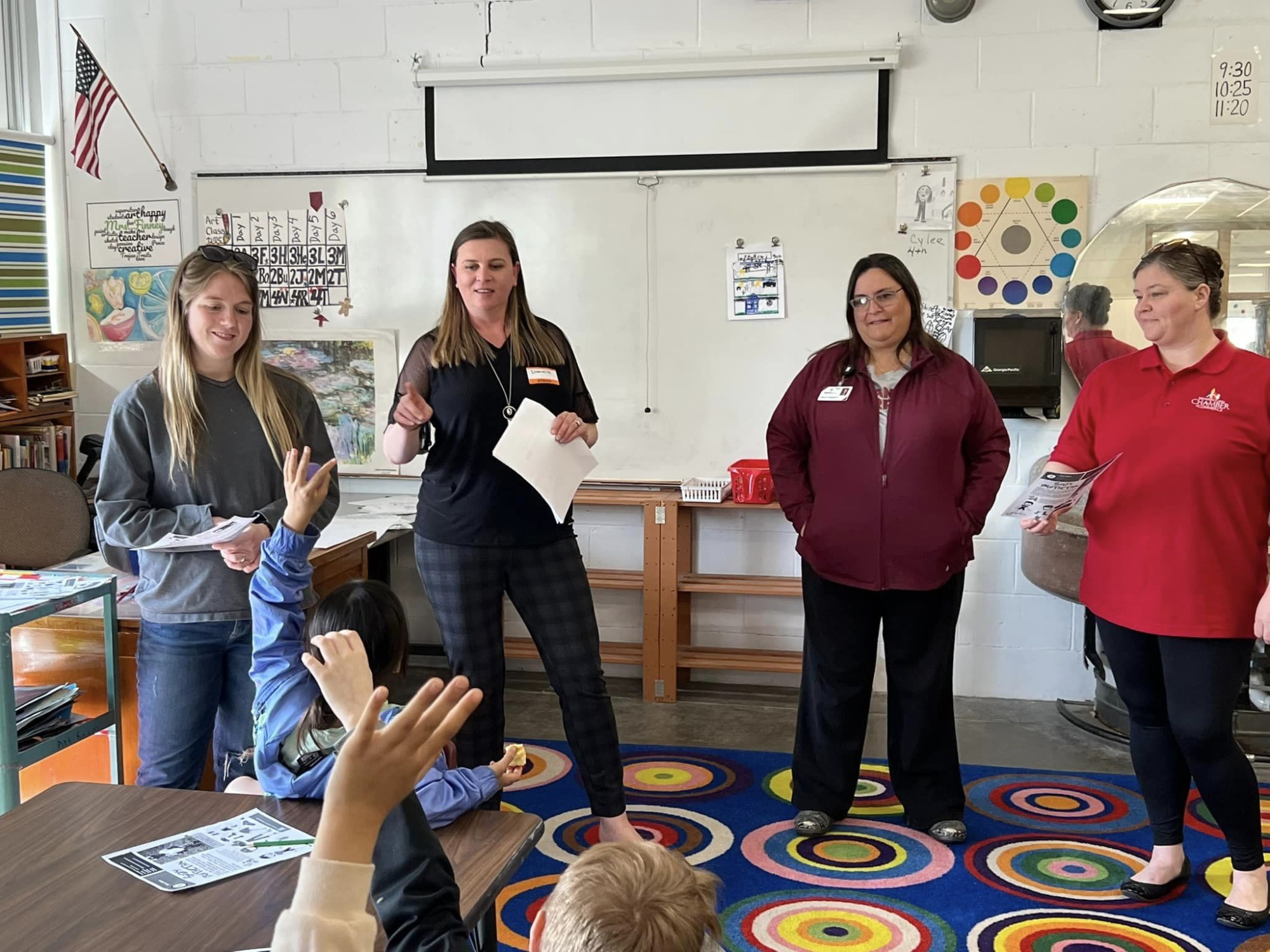 The Fairfield Area Chamber of Commerce is holding its 3rd annual Bike Safety and Rodeo program with after school children at Pence Elementary. Thanks to our presenting sponsor AERON Lifestyle Technology and material sponsor The Ride Bike Shop, this program is completely free for the students.
Chamber volunteers use stations to teach a variety of bike safety topics like hand signals, road signs, rules of the road, parts of your bike, ABCs of your bike, and do an egg drop experiment to learn the importance of wearing your helmet. The stations are Monday and Wednesday. Friday is the big day when the Bike Rodeo happens. This fun obstacle course helps students with starting and stopping, turning, and taking turns.
Watch for bikers near Pence on Friday, April 28 as students are encouraged to ride their bikes to school. Our friends from The Ride Bike Shop will bring some extra bikes too. Before the Rodeo begins, all students are fitted for a helmet. If the helmet they have isn't fitting properly or is damaged, they will receive a free helmet. Thanks to Blank Children's Hospital who donated 30 helmets to this event. TrafFix Devices donated 2 bikes and AERON Lifestyle Technology donated two bikes so we are able to give 4 children a free bike.
The week ends with a graduation ceremony at the shelter on the playground where parents are invited to come celebrate the end to the week. Popsicles are also enjoyed by all.
National Bike Safety Month is in May, when we normally hold this event. Biking is a great exercise and with 16 miles of loop trail, it is part of life in Fairfield. The Chamber hopes that by introducing these safety lessons to students that they are able safely ride their bikes to school.
The curriculum comes from the Safe Routes to School Program which was developed by the Iowa Department of Transportation and Iowa Bicycle Coalition. We look to continue to grow our education program as well as our other bike events. This year we will be combining the BAFLTAFR (Bike Around Fairfield Loop Trail Annual Fun Ride) and Harvest Rush Gravel Grinder to welcome all bikers to come out and enjoy the day.
Our volunteers make this event fun as well as educational. We are thankful for Iowa State University Extension and Outreach of Jefferson County for taking care of the egg drop station. Other volunteers come from the Chamber Board, committees, ambassadors, and friends. Each one has taken time to make this program possible.
We encourage parents to attend the graduation ceremony at 5:10 pm at the shelter on the Pence playground.
More News
posted 12/6/23
posted 12/5/23
posted 12/1/23
posted 12/1/23
posted 11/30/23