Fairfield Treasure Hunt Weekend
Friday, July 28, 2023 to Saturday, July 29, 2023 · 9:00am to 6:00pm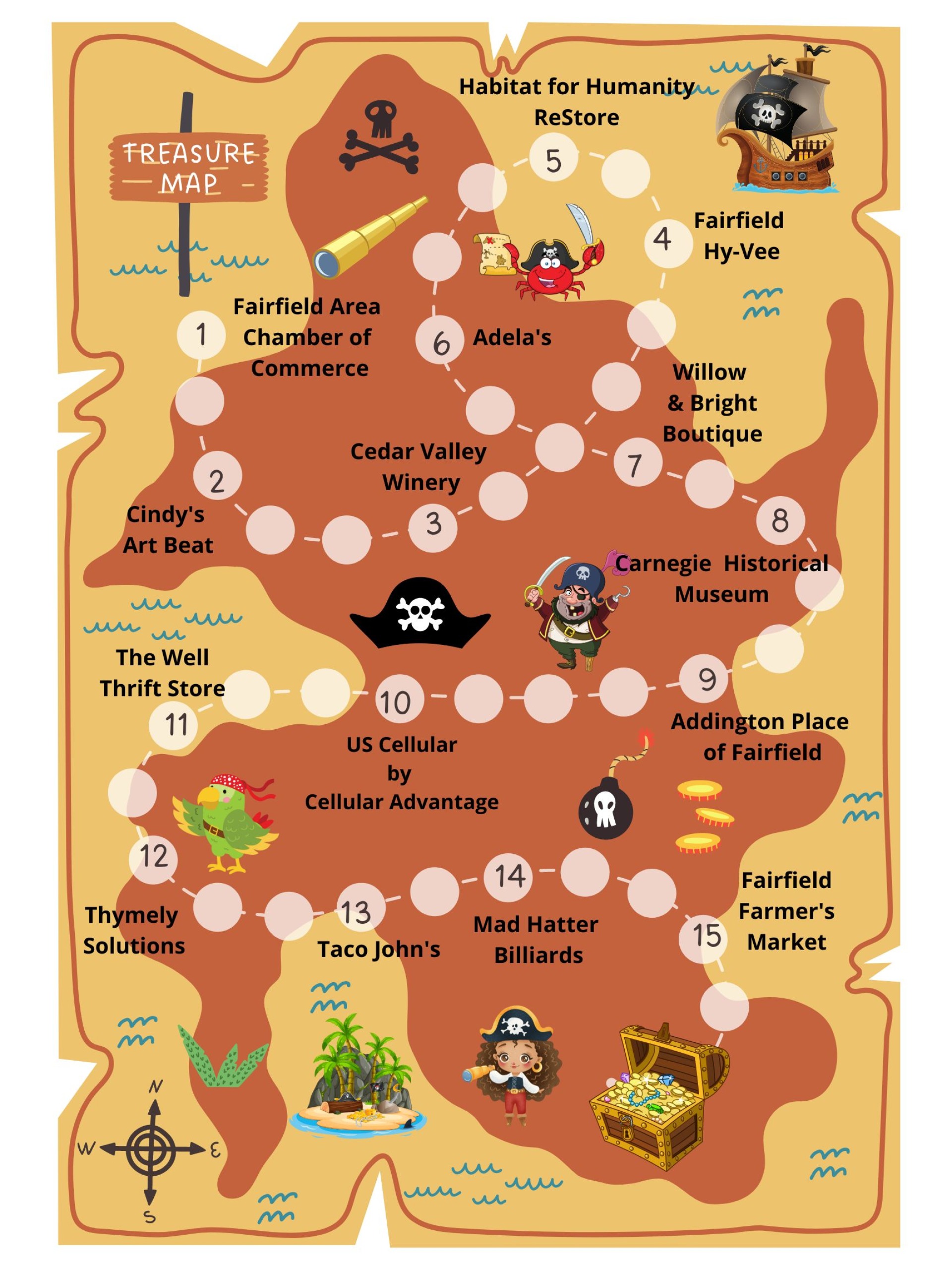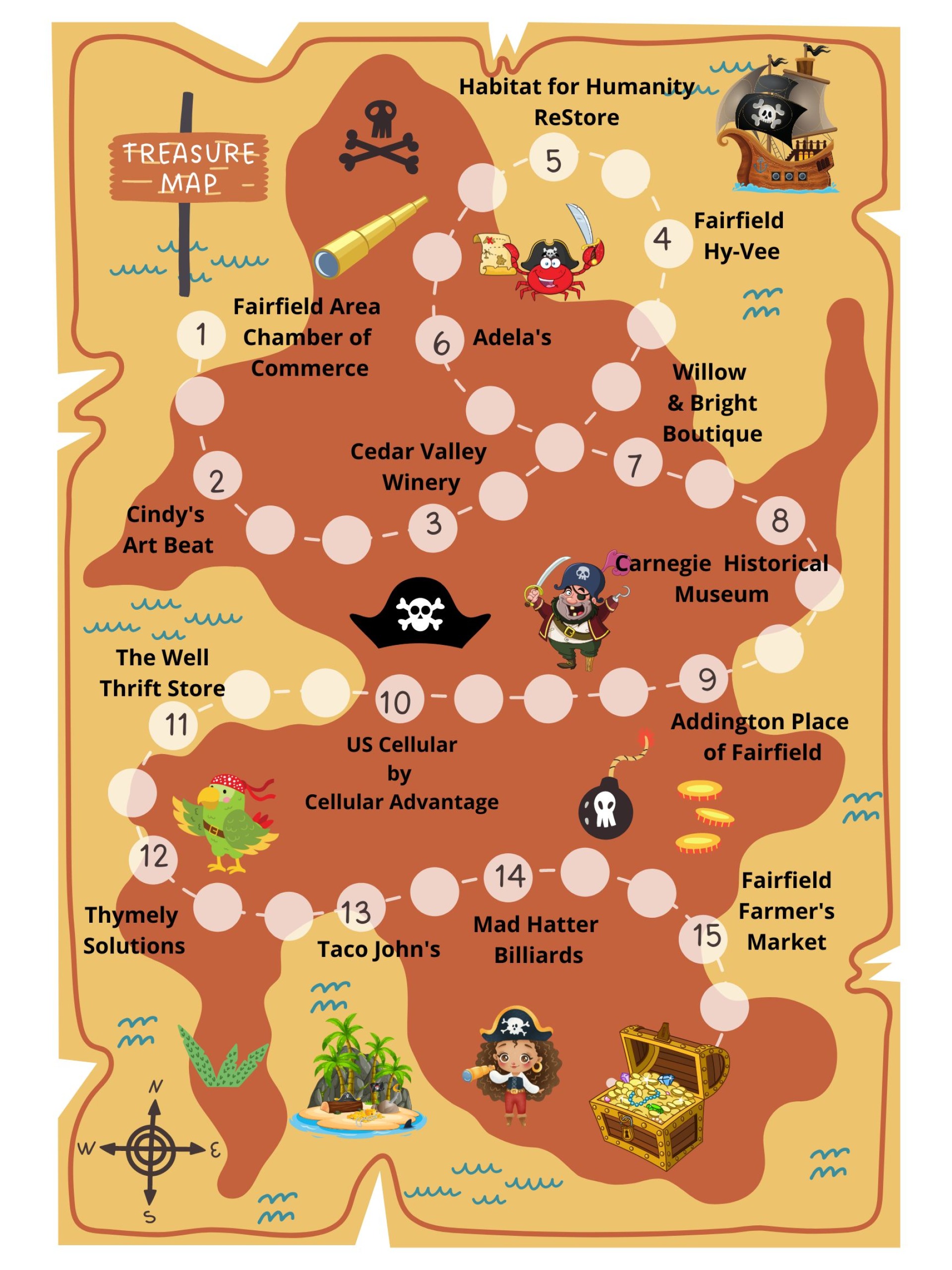 Fairfield Treasure Hunt Weekend
Sales Featuring Participating Fairfield Retail Stores, Restaurants, and ​Local Garage Sale Vendors
Find treasure in Fairfield! Fairfield Treasure Hunt Weekend will be held on Friday and Saturday, July 28th and 29th, 2023. Follow the treasure map and visit participating stores, restaurants, and garage sale vendors for sales and treasure finds. Post pictures and selfies on social media for the #fairfieldtreasurehuntweekend, for your chance to win Chamber Bucks!
Please note that hours vary by participating location.
Please register by Friday, July 21st, 2023.
2023 Participants Include:
1. Fairfield Area Chamber of Commerce
204 W. Broadway Avenue, Fairfield
7/28: 9am - 3pm
Pick up your map! (Hard copies available starting 7/27)
2. Cindy's ArtBeat
53 W. Broadway Avenue, Fairfield
7/28: 1pm - 5pm and 7/29: 12pm - 4pm
3. Cedar Valley Winery
2034 Dewberry Avenue, Batavia
7/28: 1pm - 5pm and 7/29: 10am - 5pm
4. Habitat for Humanity ReStore
1903 US-34 Business, Fairfield
7/28: 10am - 5pm and 7/29: 10am - 5pm
Outside table sales
5. Hy-Vee
1300 W. Burlington Avenue, Fairfield
7/28: 9am - 6pm and 7/29: 9am - 6pm
6. Adela's
301 S. Main Street, Fairfield
7/28: 9:30am - 5pm and 7/29: 9:30am - 4pm
7. Fairfield Farmer's Market
E. Grimes Street and N. Main Street, Fairfield
7/29: 8am - 1pm
Local vendors providing sales at the Market
8. Addington Place of Fairfield
3000 W. Madison Avenue, Fairfield
7/28: 10am - 2pm and 7/29: 10am - 2pm
Garage sale at location
9. Willow & Bright Boutique
111 N. Main Street, Fairfield
7/28: 10am - 5pm and 7/29: 10am - 3pm
10. uscellular by Cellular Advantage
2103 W. Burlington Avenue, Suite 100, Fairfield
7/28: 10am - 6pm and 7/29: 10am - 5pm
11. Carnegie Historical Museum
114 S. Court Street, Fairfield
7/28: 12pm - 4pm and 7/29: 11am - 3pm
12. The Well Fairfield
1700 S. Main Street, Fairfield
7/28: 10am - 5pm and 7/29: 10am - 4pm
13. Taco John's
703 W. Burlington Avenue, Fairfield
7/28: 7am - 11pm and 7/29: 7am - 11pm
14. Mad Hatter Billiards
116 N. Main Street, Fairfield
7/28: 4pm - 2am
15. Thymely Solutions
101 N. Court Street, Fairfield
7/28: 9:30am - 6pm and 7/29: 10am - 5pm
Garage Sale Vendors:
1. 810 S. 5th Street - 7/28: 9am - 6pm and 7/29: 9am - 6pm
2. 904 W. Taylor Avenue - 7/28: 9am - 6pm and 7/29: 9am - 6pm
3. 600 S. 2nd Street - 7/28: 9am - 4pm and 7/29: 9am - 2pm
4. 706 N. B Street - 7/28: 9am - 6pm and 7/29: 9am - 6pm
5. 2903 #B W. Adams Street - 7/28: 8am - 5pm and 7/29: 9am - 1pm
6. 1304 Dogwood Drive - 7/28: 8am - 1pm and 7/29: 8am - 1pm
7. 1104 S. 2nd Street - 7/28: 9am - 3pm and 7/29: 8am - 1pm
8. 905 N. 10th Street - 7/28: 9am - 6pm and 7/29: 9am - 6pm
9. 605 S. 3rd Street (Alley) - 7/28: 9am - 5pm and 7/29: 9am - 5pm
10. 104 N. 5th Street - 7/28: 10am - 5pm and 7/29: 10am - 5pm
11. 305 E. Jefferson Avenue - 7/28: 8am - 6pm and 7/29: 8am - 6pm
12. 121 E. Broadway Avenue - 7/28: 9am - 5pm and 7/29: 10am - 3pm
13. 102 E. Fillmore Avenue - 7/28: 8am - 6pm and 7/29: 8am - 4pm
14. 207 Highland Street - 7/28: 9am - 5pm and 7/29: 9am - 5pm
15. 2901 W. Adams Avenue (B) - 7/28: 8am - 6pm and 7/29: 8am - 6pm
16. 2267 Glasgow Road - 7/28: 9am - 6pm and 7/29: 9am - 6pm
17. 2230 S. 32nd Street - 7/28: 8am - 4pm and 7/29: 7am - 3pm
18. 504 W. Kirkwood Avenue - 7/28: 9am - 6pm and 7/29: 9am - 6pm
Sponsor
Presenting Sponsorship Available